LakerPrint Student Printing System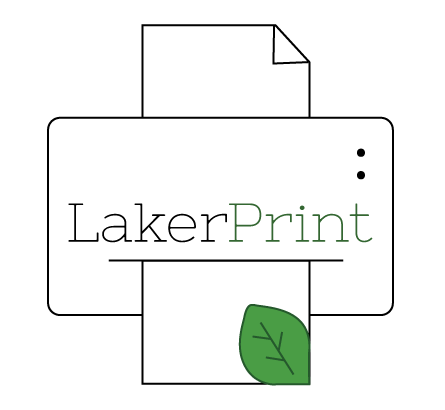 What is LakerPrint?
LakerPrint is the student print system on campus. The benefits of this system include:
You can use your mobile device to upload and release documents. (QR Code Touchless Release) 
No more banner pages or wasted paper from documents never retrieved
No accidental pickup of other's documents
Reduction of wait time as lines will move faster
Support for personal computers and mobile devices
Flexible printing from any LakerPrint station
Reduction of the overall sheets of paper printed on campus
How to Use LakerPrint
Submit Your Document Ahead of Time 
LakerPrint works by submitting your document to the LakerPrint cloud ahead of time and then visiting any LakerPrint station to release the document to the printer. You don't have to bring a thumb drive or login to your email to find the document you want to print.  Instead, upload, email, use the Pharos mobile app or Pharos Chrome extension to submit your document. 
Documents are stored in the cloud for 48 hours which means you can submit your document to the LakerPrint cloud the night before class and then visit any LakerPrint station on campus the next day to release the document to the printer. 
How to upload to LakerPrint using the website
Using LakerPrint with the Pharos Mobile App
How to send documents to LakerPrint via email
Installing the Pharos Chrome Print Extension
Release at a LakerPrint Station
Once your document has been submitted to LakerPrint, visit any LakerPrint Station (see below for a list) to release the document to the printer.
When you release your document to the printer, you'll notice a charge.  Print quota balances have previously been displayed in pages. The new system will only show monetary balances.  Students have been allocated 200 pages each fall, winter, spring, and summer semesters. This equates to $30 of printing each semester.  Costs of black and white documents are $0.15 per sheet of paper (whether single or double-sided) and $0.90 per sheet for color documents (whether single or double-sided). When you look at your balance, it will now show a monetary balance based on the $30 allocation and the cost of the printed documents.
Please refer to our Printing Policies for information on print allocations, costs, and purchasing additional allocation.
LakerPrint Station Locations 
The following locations have LakerPrint stations. You can also look at the campus map with all the locations labeled. 
Sheldon front lobby
Marano Campus Center by REFRESH store, second floor (color and B&W)
Penfield Lobby (color and B&W) and 24-hour room
Shineman first floor (Beaker and Bunsen)
Rich second floor
SUNY Oswego in Syracuse (Metro)
Mahar second floor
Wilber first floor
Residence Halls 

Cayuga
Funnelle
Johnson
Mackin
Oneida
Onondaga
Riggs
Seneca
The Village

Residence Hall Computer Labs: Hart, Scales, Waterbury

Benefits of LakerPrint
A More Mobile Environment
LakerPrint works with laptops, Chromebooks, smartphones, and tablets.  With the existing system, laptops only worked by installing a special piece of software for the exact printer you wanted to print to.  With LakerPrint, laptops and Chromebooks will require a web browser, preferably Chrome. 
A More Secure Environment
By releasing documents to the printer exactly when you are ready to print, you won't have to potentially shuffle through other's documents at the printer that haven't been picked up yet.  Only your document will be stored on the printer making it a more secure environment. 
A More Sustainable Environment
The "submit and release" technology of LakerPrint means no more banner pages and no more wasted paper from documents never retrieved.  Last academic year, approximately 1.8 million sheets of paper were printed from the computer lab and quick print station printers. Minimally, 120,000 sheets of paper will be saved by not printing banner pages.  
If you have any questions, please contact the CTS Helpdesk at x3456 or help@oswego.edu