Bring a deeper understanding of technology into schools to help students apply technological understanding and processes of the present and the future. SUNY Oswego's technology education program helps students gain a strong foundation in teaching theory practice with meaningful extended student teaching experience.
Quick Facts
Rolling Admission Apply Anytime
You Can Start Fall, Spring or Summer
Delivery Option Main Campus
Cost Per Credit Hour $471
Estimated Completion Time 2 Years
Overview
You will enjoy collaboration with teachers in other areas of study and share the creative hands-on nature of technology education. Gain real-world experience through field placement settings. Tailor your education to what suits your interests by choosing one of three tracks to complete your education. Options include a research project, a thesis or directed coursework.
A Leader in Tech Education
You'll study in one of the largest technology education departments in the country. SUNY Oswego has been a consistent leader in developing technology curriculum, and every year hosts one of the largest technology education conferences in the Northeast
Outcomes
Successful completion of this program provides the necessary degree requirements to obtain your New York State professional teaching certification to teach technology from kindergarten to grade 12.
Career Opportunities
Technology education teacher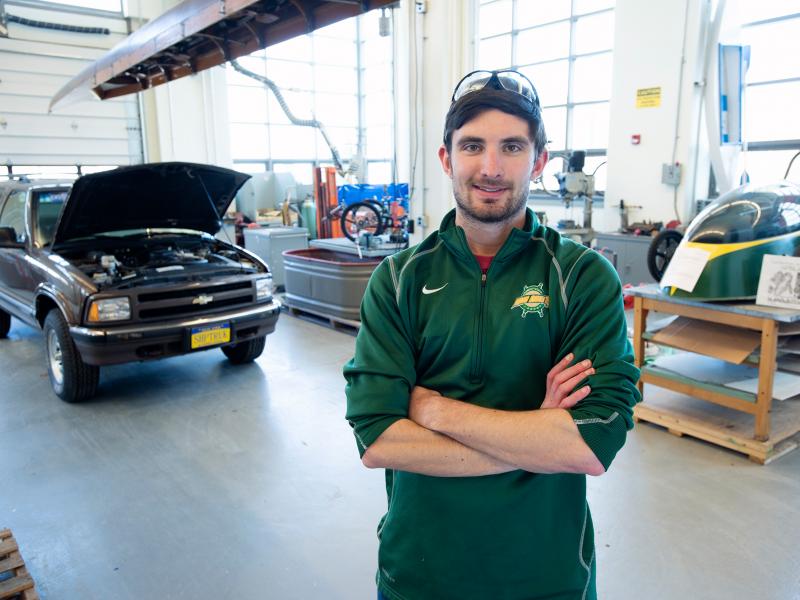 What attracted me to Oswego was not only the history and quality of their education programs, but also the investments made into getting the latest equipment to learn and teach others on. 
Program Resources
NCATE Accredited
The School of Education is accredited by the National Council for Accreditation of Teacher Education (NCATE), and has demonstrated that it meets standards set by organizations representing the academic community.
Diversity Graduate Fellowship Program
Prospective students may be eligible for an award which includes an annual stipend, in addition to fully-paid tuition for full-time study.
Learn More
More than 120 Graduate Assistantships Offered
Assistantships provide an opportunity to gain experience through professional work on campus.
Learn More
The Power of SUNY Tuition
Achieving your long-term career goals shouldn't come at the expense of your immediate financial security. Oswego offers low tuition compared to many private colleges. Never sacrificing quality for affordability, our graduate students are receiving a nationally accredited program that will translate into effective knowledge and opportunities.
Admission Requirements
Submit an official transcript showing confirmation of a bachelor's or master's degree/advanced certificate. This includes any transcripts showing graduate-level coursework or post-baccalaureate degrees/certificates. Official transcripts must be sent directly from granting institution (electronic or mail). If you are a SUNY Oswego alum, your transcript will be automatically requested after entering your student ID and identifying SUNY Oswego as your school on the application.
A minimum cumulative grade point average of 3.0 or better is required for applicants. (Applicants with a GPA below 3.0 are welcome to apply, but should explain in the purpose statement what skills and experiences you will bring to the program or any special circumstances that affected your GPA.) If you have questions regarding your GPA, please speak to the department advisor for further information.
Graduate Record Examination (GRE) scores are required for admission into the program. Acceptable scores are dependent on the course of study. Speak to your department advisor about what scores are acceptable to the program.
Initial Teaching Certification
New York State requires this entry-level certificate for classroom teachers with specific areas of interest. Submit a copy of your NYS initial teaching certificate in area of interest during the application process.
In 500 words or less, describe your personal achievements relating to your academic interests, and detail your educational and professional objectives with reasoning for applying to SUNY Oswego. This statement will help the review team better understand and evaluate your application.
Include a professional resume or curriculum vitae that includes your academic history, professional background and any accomplishments of note. This document should provide details that support your admittance to the program.
Two letters of recommendation
Indicate two names with valid email addresses. We will send an email request directly to the references on your behalf. These references should be able to speak to your character, work ethic and abilities. (At least one of these recommendations must be from your school district.)
Prospective students are charged a non-refundable $65 fee for processing the application.
Tuition and Costs
Graduate school can be affordable. See our in-state and out-of-state tuition and costs.

View tuition and costs
Visit Oswego
Experience what makes Oswego special in person. We have a variety of visiting options through the year.
Contact us to plan your visit
Next Steps to Apply
Ready to get started? We're here to make the application process as smooth as possible. Create an application account and save your progress at anytime.