The gender and women's studies program draws upon the best faculty in a wide range of scholarly disciplines, offering you a comprehensive choice of courses from which to tailor a degree that meets your needs and interests.
Overview
The curriculum explores the diverse experiences, perspectives, culture, history and significant contributions of women. This interdisciplinary major is designed to develop a broad understanding of the study of gender and women, investigate women's contributions in all areas of academic scholarship, and explore the relationship between cultural definitions of feminine and masculine behaviors and the realities of women's and men's lives. Choose from core or concentration courses to design programs that fit your specific interests and career orientation.
Take advantage of opportunities for learning beyond the traditional classroom by applying for internships, independent studies and seminars under the mentoring of an academic adviser. The program collaborates closely with the Women's Center, a student organization that puts classroom instruction into practice. Get involved the annual Women Aloud program of performers, poets and speakers that raises funds for scholarships in this program.
Outcomes
Synthesize and analyze diverse perspectives
Access and synthesize knowledge in gender and women's studies scholarship
Identity and analyze systems of domination that constrain men's and women's lives in multiple contexts, such as the workplace, the household, education and academic inquiry
Describe and analyze the history of feminist movements and of gender and women's studies as an academic field of inquiry
Career Opportunities
Counseling
Therapy
Social work
Law
Journalism
Advocacy
Non-profit work
Program Resources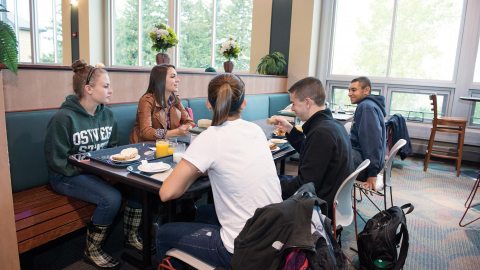 The Oswego Guarantee
No increase in room & board 
Timely course offerings
High touch connections to alumni 
Small student to faculty ratio
Full Details
Tuition and Costs
Our college education is affordable, see our in-state and out-of-state tuition and costs.

View tuition and costs
Visit Oswego
Experience what makes Oswego special in person. We have a variety of visiting options through the year.
Plan your visit
Next Steps to Apply
Ready to get started? We're here to make the application process as smooth as possible. Just answer a few quick questions, and get your customized application guide.