Members of the campus community and the general public were invited once again to celebrate National Arbor Day with the Canal Forest Restoration Project (CFRP) at Rice Creek Field Station!
This year's celebration featured three short hybrid talks from invited speakers and a free tree giveaway.

2023 Speaker Series Recording
_________________________
Celebration Schedule
Friday, April 28, 2023
Invited talks | 1-2:30 pm
Tree giveaway | 2:45 - 5 pm
_________________________

From left to right: Dr. Susanna Keriö, Dr. Laura Donnelly, and Dr. Melissa Fierke.
Speaker Lineup 
Each invited talk is 25-30 minutes long, and includes time for questions. Participants can view each talk at Rice Creek or via Zoom.
"Urban Tree Health in a Changing Climate," by Dr. Susanna Keriö. This talk features research conducted at the Connecticut Agricultural Experiment Station on the effects of climate change on urban tree species and their health.
"The Poetry of Trees," by Dr. Laura Donnelly. This talk explores poems written by Donnelly and others relating to trees, with a discussion of the engagement of creativity and writing in the world of nature. Donnelly is an award-winning poet, associate professor of English and creative writing and director of SUNY Oswego's creative writing program.
"Integrated Pest Management of Emerald Ash Borer in Urban Forests," by Dr. Melissa Fierke. This talk highlights research conducted at ESF on the efficacy of integrating insecticide treatments and release of parasitoids to control the invasive emerald ash borer long-term. 
Tree Giveaway
Bare-root tree seedlings and young trees grown by the Canal Forest Restoration project were given away at Rice Creek Field Station from 2:45 - 5 pm. Most trees were English oaks, a long-lived tree suitable for most planting sites, including urban street plantings.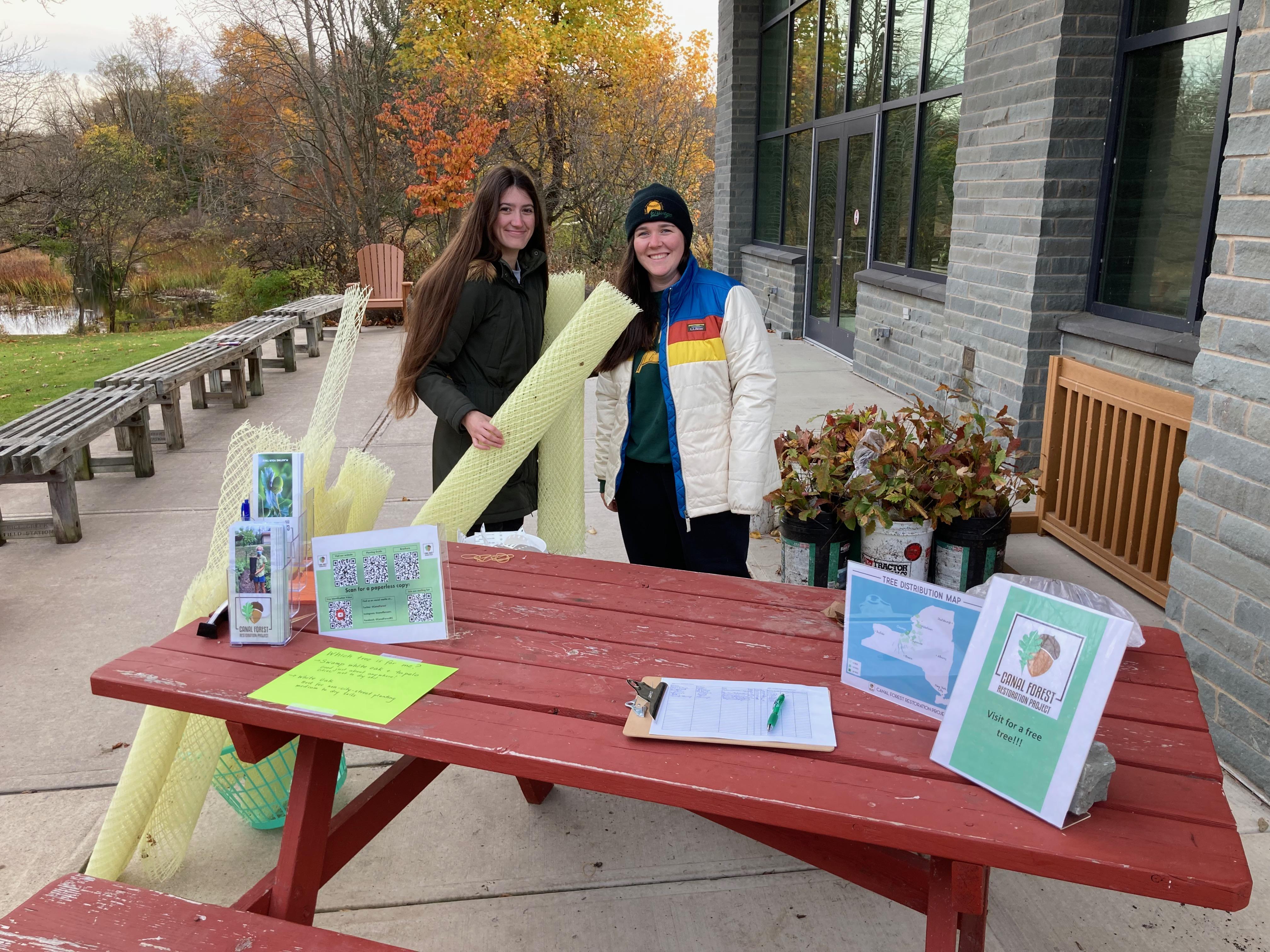 Transportation
To promote sustainability, attendees were encouraged to take the free Green Route shuttle (Centro Route 11) from the Marano Campus Center bus circle to Rice Creek -- a short, 11-minute ride. The 12:30 pm bus arrived with plenty of time for the start of the speaker series. Return buses left Rice Creek every half hour -- at 2:11 pm, 2:41 pm, 3:11 pm, etc. 
For those driving personal vehicles, free parking was available at Rice Creek Field Station, at 193 Thompson Road in Oswego -- 1 mile south of campus.
Recordings
From 2020-2022, our Arbor Day Celebration was 100% virtual, offered as a webinar conference or webinar series. Recordings for all past and current talks are available on the CFRP YouTube channel.