No matter the season, there's always a reason to visit Rice Creek. As a field station dedicated to research and education, our facility and grounds are open year-round to the general public free of charge. Ongoing attractions include our indoor exhibits, trails, and herb garden. We also host public programs and events throughout the year. Additionally, we work with K-12 schools, college classes, and non-profit youth/community organizations to arrange field trips and special programs free of charge.
Hours
Building Hours
Our building hours are:
Monday–Friday, 8am - 4:30pm
Saturday, 9am - 3pm
Trail Hours
Dawn to dusk
Events
We offer nature education programs and special events for children and adults, ranging in topic from astronomy to art to ecology.
Virtual Visit
We are building a portal to help you experience Rice Creek Field Station from anywhere.
On-going Attractions
Visitors can explore four trails around Rice Creek Field Station while hiking, snowshoeing or cross-country skiing (biking only on the Orange Trail). Each trail allows you to discover different landscapes and habitats. Trails are open year-round during daylight hours.
Relax on the patio and see what animals are at our bird feeders, the water garden with plants for butterflies and hummingbirds, and the row of shrubs planted for wildlife located between the water garden and the pond.
Displays in the Field Station include butterflies, a rare Harlequin Duck, student research projects and more. Located in the library area at Rice Creek are photograph binders about bird banding at Rice Creek and local butterflies.
John A. Weeks Murals
Limited edition prints, one for each season, were painted by local naturalist John Weeks while he gazed out the gallery windows of the former building.  An interpretive guide walks you through the season, describing the changes in plant and animal life in each mural.
Thomas C. Ecklersley Lepidotera Collection
Tom Eckersley, professor emeritus of the SUNY Oswego Art Department, donated his extensive collection of 719 butterflies and moths to Rice Creek Field Station. His specimens are highly documented and contain examples from all regions including Nearctic, Neotropical, Palearctic, Africo-Ethiopean, and Indo-Australian.
Ruth Sachidanandan Herb Garden
With over 70 species of herbs, the garden thrives annually, which is best on display for seasonal blooms from June well into the fall. The herb garden was named after Ruth Sachidanandan, chair the original herb garden committee, and was planned by the Rice Creek Associates committee. 
Our Geocache Jackpot is hidden along a trail at Rice Creek. Be on the lookout for a regular plastic container placed by adventurous 11-year-olds during the Exploring Nature program. It includes geo-coins they made, other fun items and a logbook. A nice outing for families; a moderate hike.
There's so much to see at Rice Creek
With over 718 species of plants, 61 types of fungi and 218 species of animals, you'll always see something new when you visit.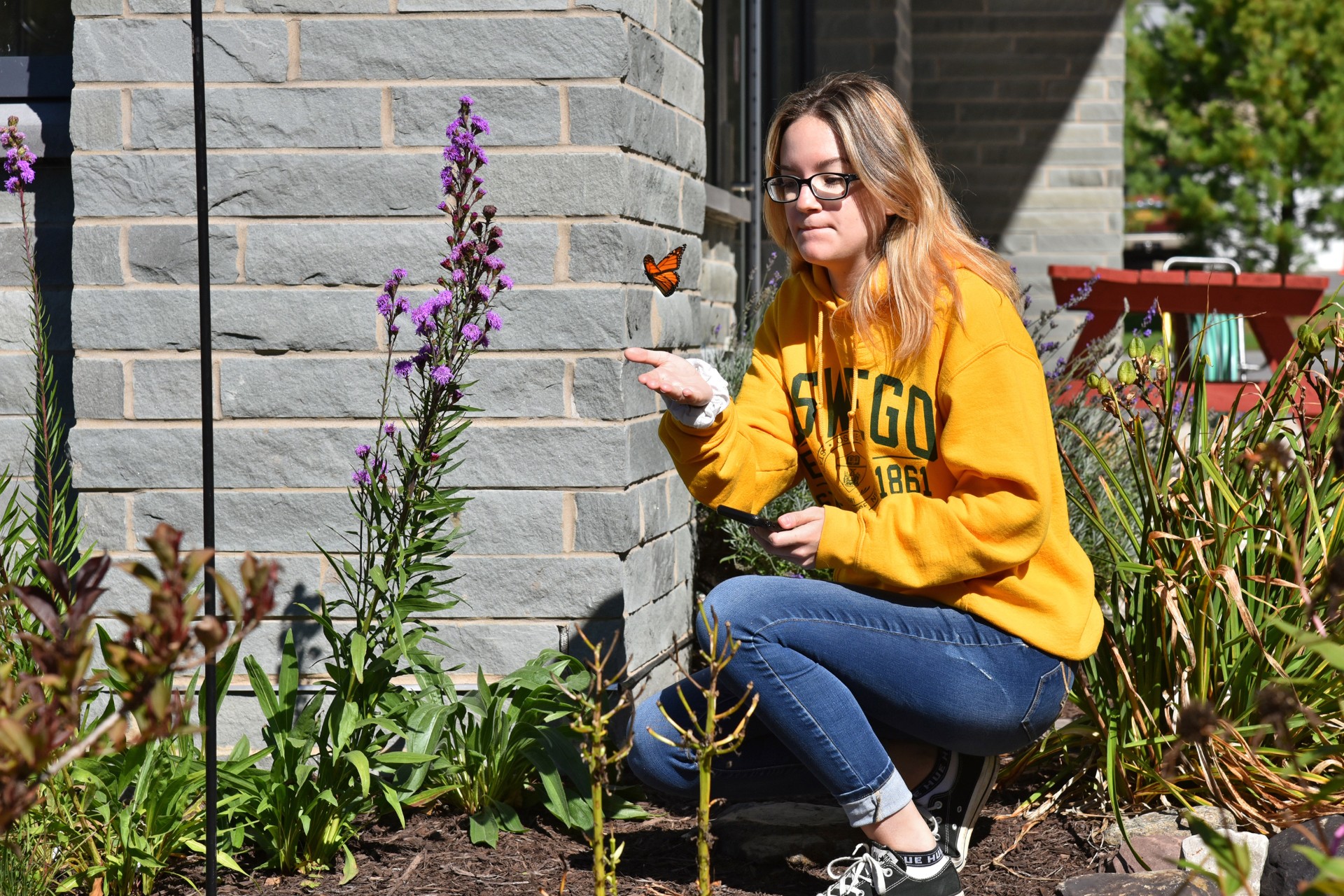 SUNY Oswego zoology major Elena Jones in the RCFS butterfly garden with a monarch butterfly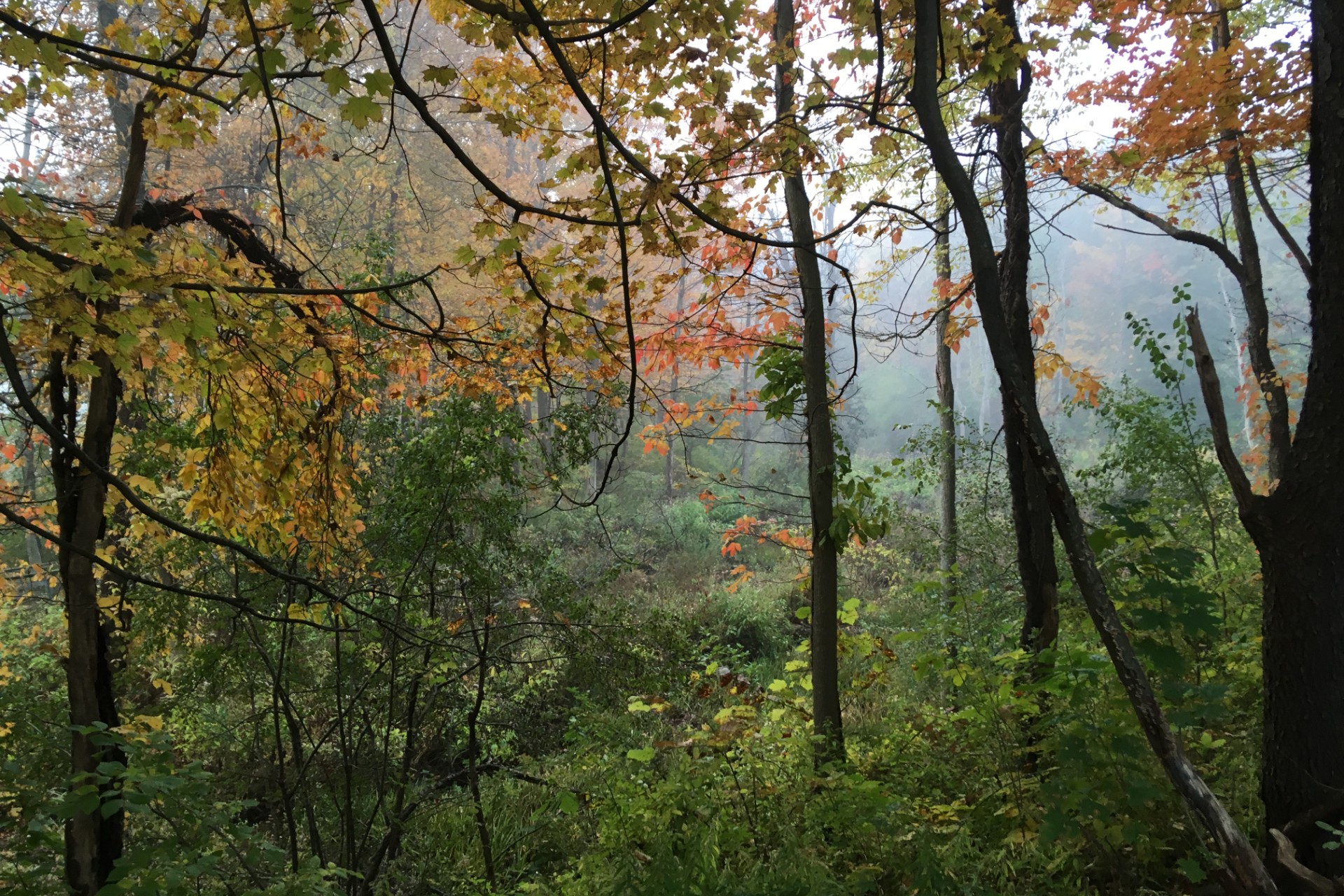 Fall at Rice Creek Field Station, overlooking the Green Trail forested wetlands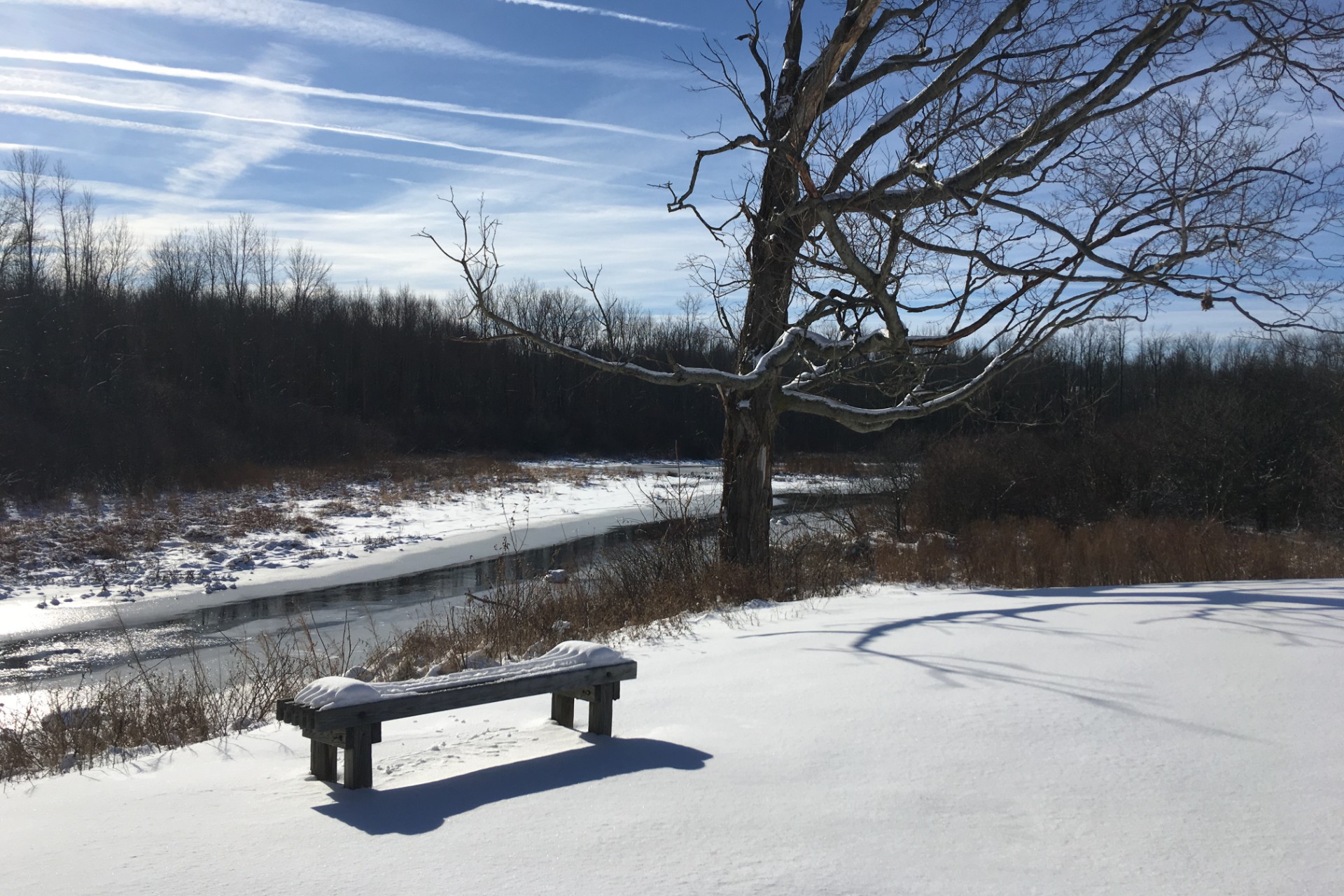 Overlooking Rice Creek and RCFS's famous old sugar maple in winter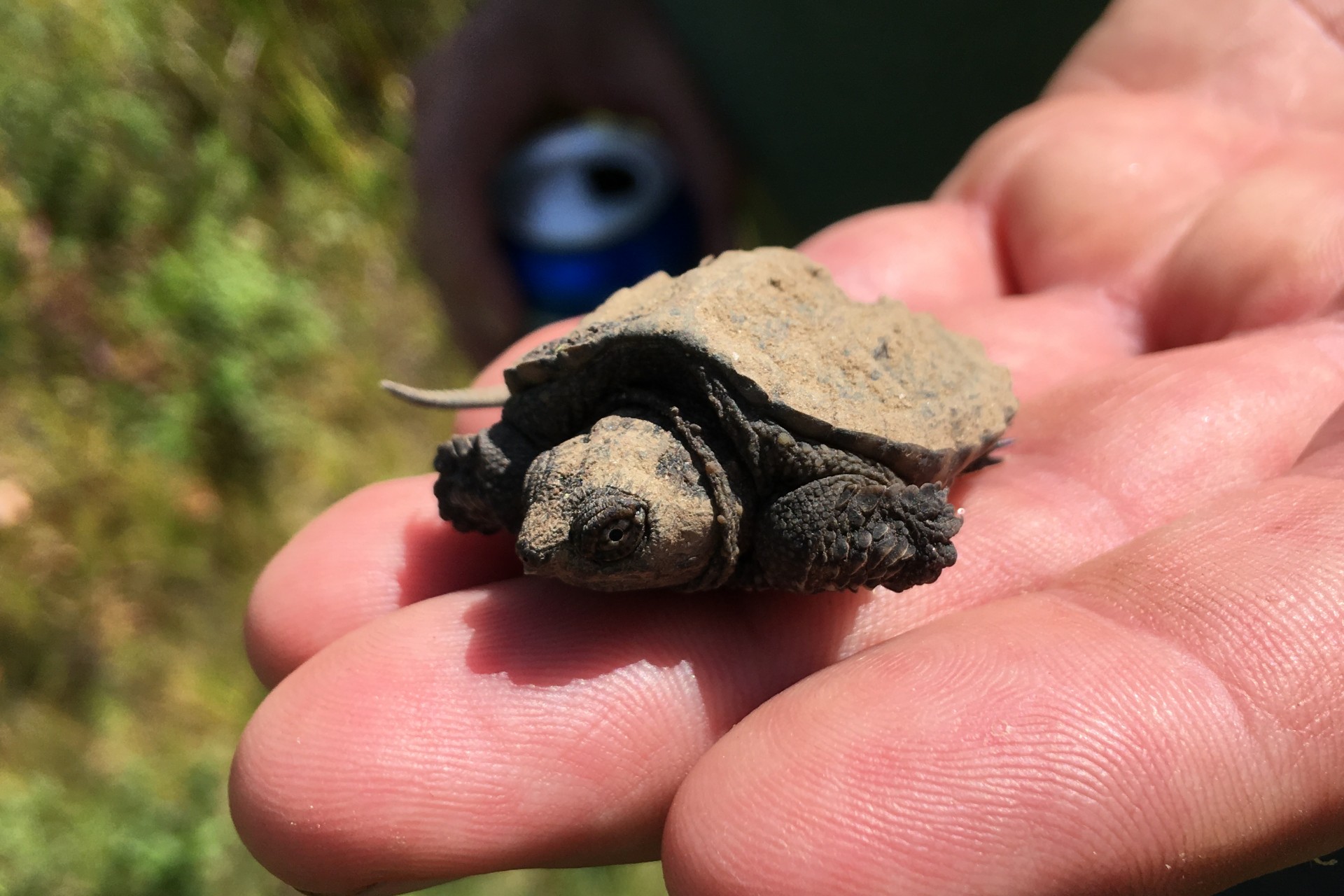 Look for baby turtles—such as this snapping turtle (Chelydra serpentina)—around the field station. Mother turtles like to lay eggs in the sandy, loose soil near the building and the herb garden.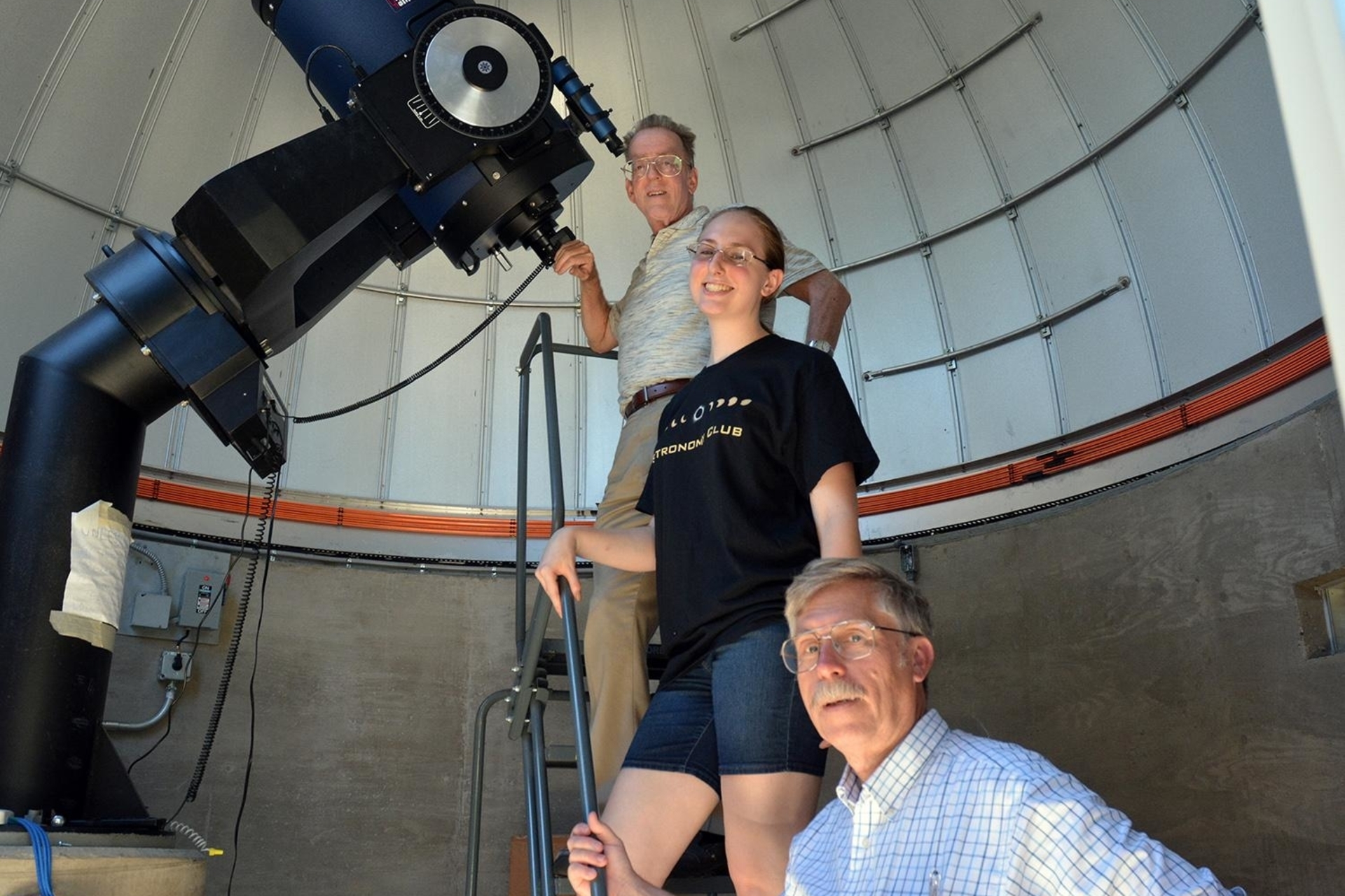 SUNY Oswego faculty members Dr. Scott Roby, Dr. John Zielinski, and a student inside the astronomical observatory at Rice Creek Field Station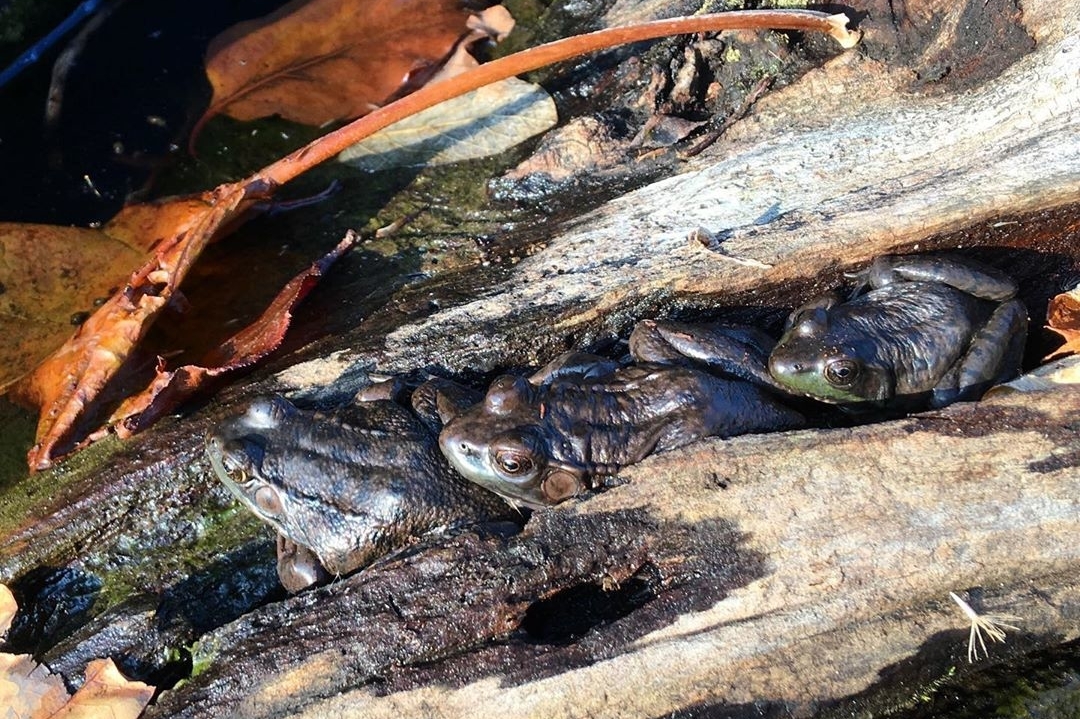 The small pond in the RCFS butterfly garden is a favorite haunt of green frogs (Lithobates clamitans or Rana clamitans)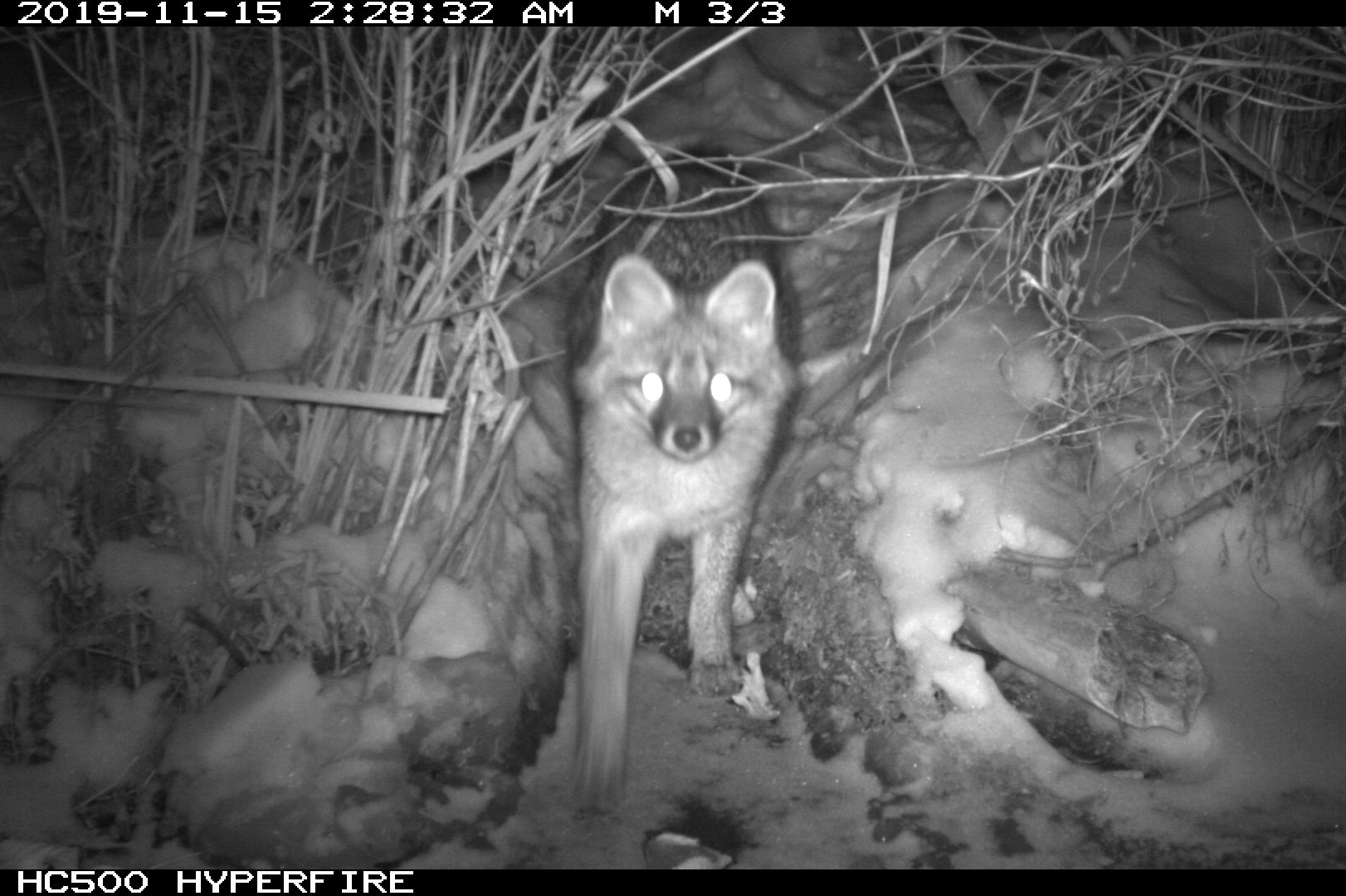 Many wildlife species that call Rice Creek Field Station home—such as this gray fox (Urocyon cinereoargenteus) are extremely rare to see during the day, but can be detected at night using trail cameras. Mammal researchers at RCFS are using trail cameras to study secretive mammals like this one.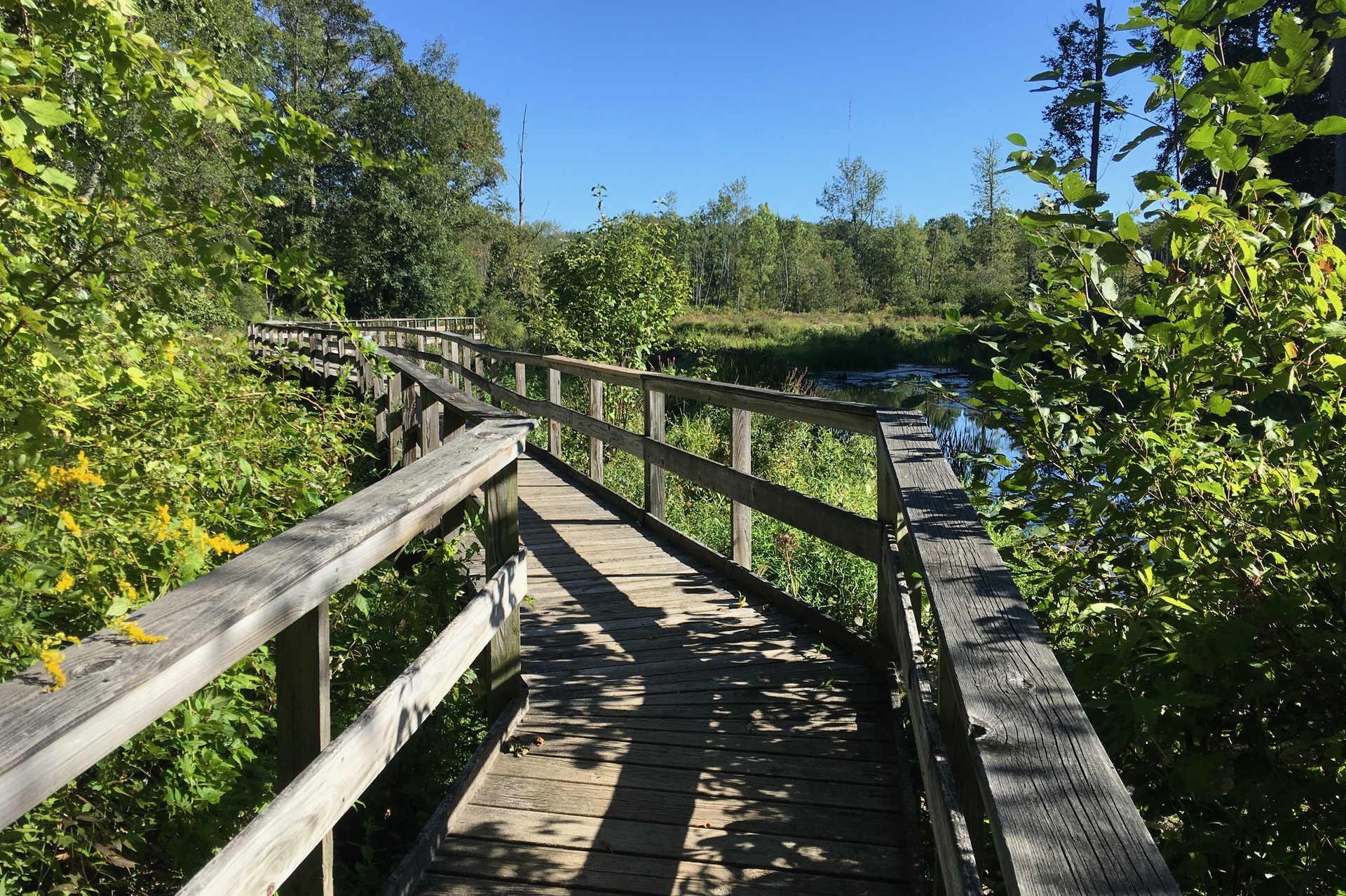 The Green Trail boardwalk is a favorite destination for visitors, offering views of Rice Creek, surrounding wetlands, and even signs of beaver activity.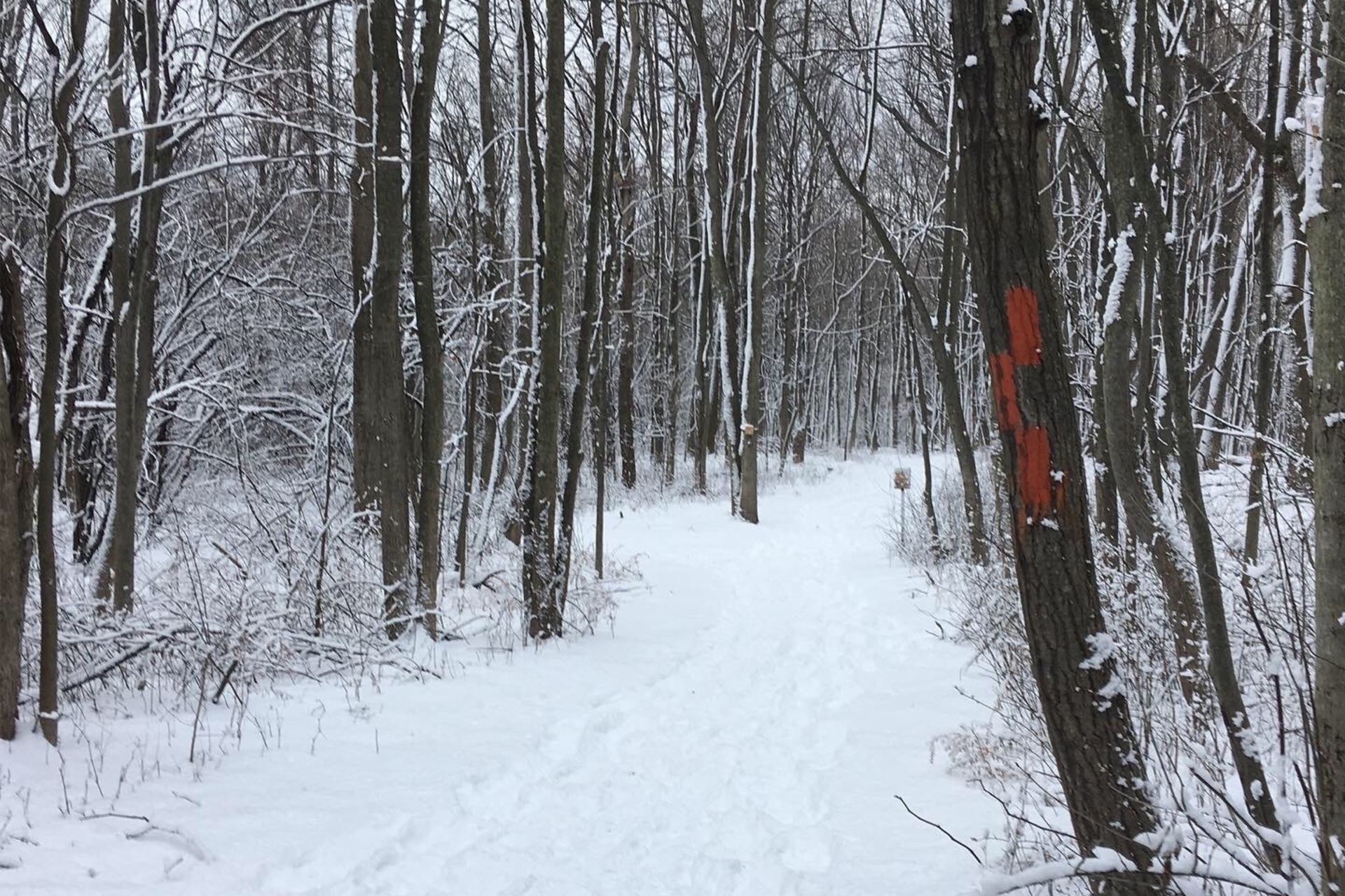 The trails at Rice Creek are a wonderful place to enjoy a winter hike, snowshoe, or cross-country ski. Fat bikes can also be used along the Orange Trail.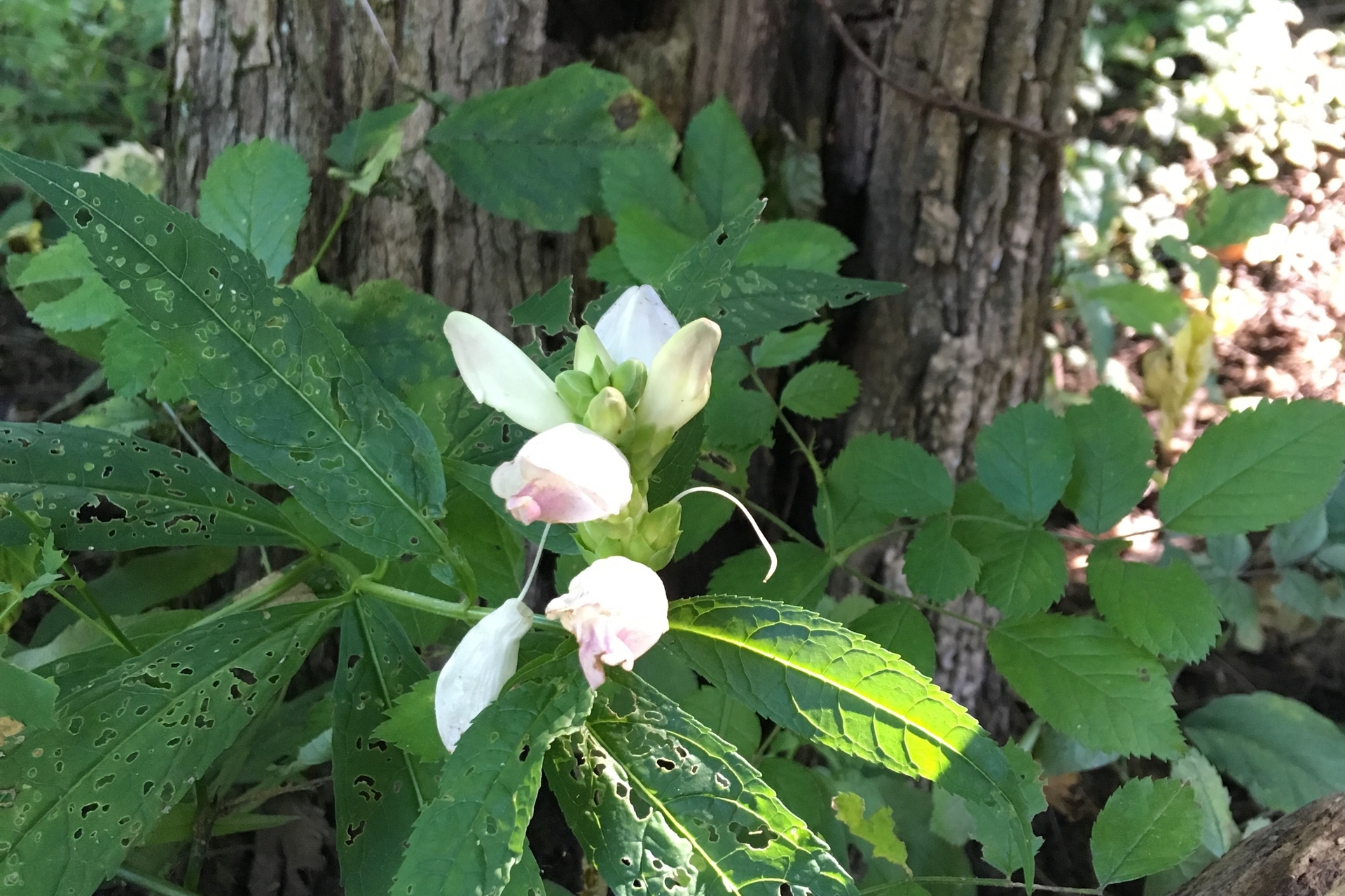 White turtlehead (Chelone glabra), a beautiful wetland plant, can be found along Rice Creek, along with over 700 other species of plants.
Directions
Rice Creek Field Station is located at 193 Thompson Road, Oswego, south of the main entrance to the SUNY Oswego campus.
Green Shuttle
The Green Shuttle offers free transportation to students from the main SUNY Oswego campus during the Fall and Spring semesters (Monday-Friday).
Parking
Parking is free and open to the public, no permit needed.